Noopiming, meaning "In the Woods' - Newaygo, MI
(An Ojibwe language)
Michigan's First GreenStar "Gold" Certified Home - Awarded December 2014
by the GreenHome Institute of Grand Rapids, MI. http://www.alliancees.org/michigans-first-greenstar-gold-certified-new-home/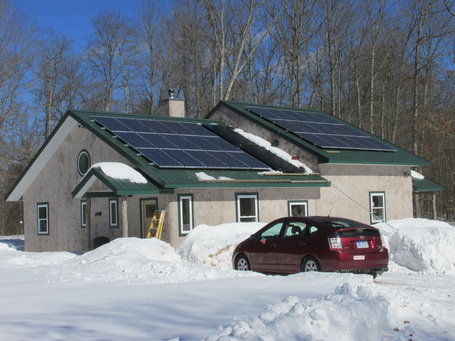 Leaving the city life behind, John & Marsha followed their feelings of belonging to nature. Now it seemed to be the right time to make this move into the woods. The homeowners wanted a home built to connect with the land, not to stand out, just a simple home weaving in harmony with nature's elements inside and out. Organic stone and wood brought into the house created a cohesiveness, which brought it all together with a combination of natural and earthy materials. They knew what they wanted. We just provided our expertise, knowledge, and green building techniques. Working together brought a harmony that fit so well with nature, environmentally friendliness, and the homeowner's lifestyle. It reflects who they are, the calm, simple, gentle, caring, gracious, and living a healthy lifestyle. Starting from the entrance a graceful curved wall leads you to an openness of longing to be. A positive energy follows you, giving you a place of peaceful views of nature from the windows opposite of the entry hall. Yes I am welcomed and relaxed.

This home is built on slab with all the necessities needed for the owners. An open floor plan and wall of windows facing the woods in the living area allows the couple to look from the kitchen & dining area. It ensures the space doesn't feel closed off, a spectacular view, feeling the outdoors is in within the comfort of your space.

The homes standout architectural feature is a staircase built with tree branches from the land, stripped by hand by the homeowners and placed as spindles & post going up the staircase and loft area. Spaces under the stairway are custom built drawers for storage and an area for storing wood for the woodstove. All done by Vos Energy Concepts, builder. The smooth rounded window frames complement the curved wall at the entry. Old school chalkboards were up-cycled, cut to size, polished, and placed as the window sills. Small tree logs from the land that were split in half, left with bark were placed inside between the window frames. Support post for the patios and entrance roof on the home are logs also from the property. Small tree branches standing up, stripped & finished placed throughout the home are used for hanging scarves, wet gloves, coats, baskets, towels, and whatever else needs a place. A local artist, Kendra McKimmy, put together a design of a tree from the shore of Lake Superior. Stones collected by the homeowner and artist were used in the making of this beautiful tree that is located on the bathroom curved wall facing the soaking tub. After a day of long hikes or cross country skiing, soaking in the solar hot water (heated from the hot water solar panels) is relaxing time for the soothing of one's fun day.

In the end we have accomplished filling the needs of the homeowners, and then some. Having a home that is not maintaining their attention gives them the time to enjoy more carefree days. Walks in the woods, gardening, or simply sitting on the patio enjoying the simplicity, peacefulness, and nature, helps them feel they belong In the Woods.


This home was designed and built by Dan Vos, Vos Energy Concepts. ICF walls & slab work was done by Eldon Howe, Howe Construction.


Energy Efficiency and Green Built features include:

-Hers score rating of 16.
-ICF walls
-Concrete stained floors.
-Energy Star North star Triple pane windows.
-Solar hot water and Photovoltaic (PV) panels.
-High efficiency wood stove when needed.
-Radiant heat throughout the house.
-HRV (heat recover ventilator0
-Mini split Heat Pump that heats and cools the air.
-Insulated blinds for all windows, keeping the winter warmth in and coolth in the summer.
-Insulation under concrete floors.
-Energy star appliances.
-Metal roof.
-Stucco walls on outside of home, giving the homeowners little upkeep on outside.
-Energy star lightning LED throughout the entire house.
-Locally milled rough sawn wood planed by builder used for floors in loft area, ceilings in bedroom area and also for counter tops in bathrooms (Oak and Walnut).
-Tiled in bathrooms-backsplash areas, tub surround & walk-in shower.
-Hanging pendants lights, ceiling lights, and ceiling fans purchased at the Restore of Habitat of Humanity with LED bulbs.
-Old school house chalkboards up-cycled for window sills.
-Barrier free design.


---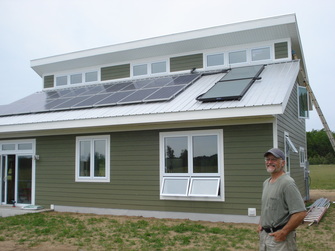 This home is located near the Muskegon River in Stanwood, MI with river access. The home is a Passive Solar contemporary style home designed by Architect, Eric Hughes of
Image Designs,LLC
-Grand Rapids, MI. The house was built with BuildBlock ICF (Insulated Concrete Forms) from the foundation to the roof using SIP Panels for the roof itself. This is a great way to go when the home is sited in an open area surrounded by fields without feeling the effects of winds swirling around outdoors especially during those winter months. The home is quiet indoors so the noise level outdoors is not a problem. On the South side on the main level, we have plenty of windows for Passive gain in the winter that will store heat in the stained concrete floors, which makes for a thermal mass and slowly releases it at night. During the summer, this is not a problem due to the fact the sun is up higher and the roof overhangs will shade the windows keeping it from excessive heat gain. With the Passive Solar Design the home also features Solar hot water, 4.1kW of Photovoltaic and a 98% efficient boiler for the radiant floor heat and hot water. The homeowners are set up for net metering and have enjoyed seeing the meter run backwards since the home was completed. They are also pre-wired for future use of a Wind Generator. With this design and all the concepts combined this makes the home a Zero Energy Home. With all the other extras added in the home also is a LEED "Platinum" certified and has received a 5+ Energy Star certification and a HERS score of 12. This makes it the lowest score in Michigan and making it the most energy efficient home in the State of Michigan.


LEED and Green features include:

- Zero step "Silver" Certified (Barrier Free)
- Zero step entries.
- SIP panel roof.
- ICF walls.
- Concrete stained floors.
- FSC certified woods.

- Passive Solar design with Solar Hot water and Photovoltaic panels.
- All Energy Star appliances.
- Low-VOC caulks and sealants and No-VOC paints and primers.
- Amish built kitchen cabinets from wood within 5 miles of homes site.
- Radiant Heat throughout the house.
- Radon venting.
- HRV (heat recovery ventilator)
- Energy Star LED & CFL lighting and Ceiling fans.
- Low flow showerheads and faucets and Dual-flush toilets by Kohler.
- CertainTeed Fiber Cement siding.
- Energy Star North Star Triple Pane Windows.

---
We Have Arrived in Saranac, MI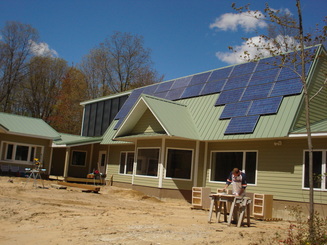 It all started in the fall year of 2007 during the Solar tour in Michigan in which I was hosting & sponsoring a home that I was working & finishing on in Newaygo, MI (listed down below) when I first met the McClellans. We met again in April of 2008 when they were in town for a visit for at that time the McClellan's were living in Wisconsin. Several trips & meetings later they found & purchased property in Saranac, MI in October of 2008. Not long after that, they sold their home in WI and moved to MI in Grand Rapids. Jay, the homeowner of the home with input from his wife, Liz put together their ideas & designs, with Jay doing all the architectural design & drawings, details, planning, purchasing, and engineering of everything that went into this house. They were very happy to find a builder who would work with them during the process, taking over the construction end of the project and also at times were very happy to volunteer their time in digging and laying out materials. Little did we know by working closely together that a wonderful friendship had been built between us. The home was finished in the year of 2010 with a LEED Platinum certification and an Energy Star HERS score of 20. This home has many features all to the specific needs for the McClellans. They have kept every detail and documented their entire project from design, construction, layouts, and photos on their web site at http://brainright.com/

LEED and Green features include:

- Barrier free design throughout with zero-step entry.
- Roll-in showers, grab bars, and knee-space under sinks and cook tops.
- Heat from solar collectors is stored in an insulated 2,500-gallon water tank, in which it warms the floors and provides most heat for hot water.
- High efficiency wood stoves for heating needs when needed.
- Super insulated shell uses double-stud wall construction.
- Using recycled cellulose insulation in the walls and attic, and 6-inch layer of reclaimed insulation under the concrete floors.
- All cabinetry, shelving, built in seatings areas are wood.
- All countertops are concrete with crushed glass mixed together, formed, and polished by Jay himself.
- All flooring is stained concrete.
- Solar PV panels to produce electricity.
- There is no lawn and the home is surrounded by gardens.
- Rain water is collected from the steel roof, which is stored in an 11,000-gallon cistern for garden irrigation and flushing toilets. The roof collects 2,000 gallons per inch of rainwater, put into a rain barrel and then directs itself into the cistern.
- A root cellar was built into the hill behind the home provides cold storage of fruits and vegetables.

These are some of the features of this house. More can be seen on their web site with up-to-date stats on the Solar features. This is truly a remarkable, authentic, and comfortable home that meets the needs of the homeowners and educates the public.

---
The Grand River Home in Grand Rapids, MI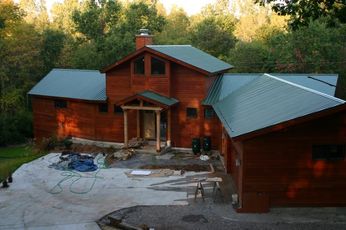 This home was designed by Architect, Jim Karczeski, of Grand Rapids, MI and built by Vos Energy Concepts. It uses a combination of Timber framing and Structural insulated panels (SIP) for structural integrity. This home incorporated some of the LEED and Green building procedures. This home uses many local products such as White cedar tongue and groove ceilings and sauna, Red pine beams & columns, Hickory floors & stair treads. Custom Maple seating booth/nook in kitchen, & interior doors.

Homeowners website: http://www.kwantfamily.org/grandriver/grandriver.htm


LEED and Green features include:

- 4000 sq ft finished floor area.
- GEO Thermal for heating, cooling, and hot water.
- Radiant Floor heat.
- Energy recovery ventilation system (ERV) for fresh air.
- 2 wood stove type fireplaces.
- Custom cabinetry and woodwork throughout the home.
- Wood floors on main level with tile floors in main entry way, kitchen, baths, and mudroom areas.
- Stained concrete floors in basement level.
- Energy star appliances and lighting.
- Custom built window seats, master closet, sauna, mudroom cabinets, eating area & more.
-Dog wash (tiled) in laundry room.
-Custom designed loft ladder built by the architect, Jim Karczewski.
-Built-in wood storage for fireplaces.
-Glass block in floor of the loft which gives light to the Foyer below.
-Open floor plan.
-High quality fixtures and granite counter tops.
-Open area designed to fit an elevator if needed, or a climbing wall.
-Wiring run for future Solar electric.
-Barrier free shower tiled with jetted tub.
-Dual flush toilets.
-Deck accessible to wheel chair.
-Rain barrel water collection and storage.
-Natural grasses & flowers instead of lawn.
---
Newaygo Shepard's Farm in Newaygo, MI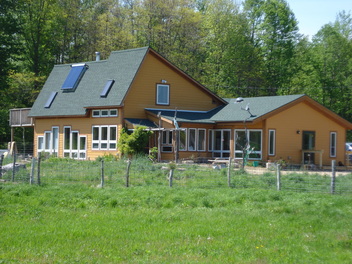 This Newaygo home sits on 40 acres and was designed with and for the homeowner and her daughter. It is a classic Passive Solar design with a 60- degree roof facing south to capture the sun's energy in the winter when the sun is low in the sky. The large amount of windows on the south side allows the sun into the house and hits the T shaped wall, which absorbs the heat during the day and releases it to the air at night. The beautiful stone on the wall was done by the homeowner from stones gathered on site or from treasured gatherings throughout her life. A gorgeouse stone, tile, and shell mosaic was done on the rear of the wall behind the woodstove by the homeowner's friend and artist, Sharon Smithem. The house is built with ICF's (Insulated Concrete Forms) making it very insulated and well sealed building.

You enter the home through a multipurpose area; it is an air lock entry, sunspace, dog washing station, and mudroom combined. From there you will enter the dining and kitchen area with two steps down into the living area. The north bermed wall is thermally isolated from the rest of the house to act as a cold storage area. A spiral staircase rises from the East side of the T wall nook into the loft area, which has 2 bedrooms, full bath, and a laundry room in the NE corner of the loft.

The south roof has an evacuated tube solar hot water panel on it, which will assist in the heating of hot water for showers, etc. and radiant floor heating needs. There is also a "sun tunnel" to provide light to the upstairs bath. This energy efficient house is mainly heated by a woodstove using wood harvested from the property with an estimated one cord of wood needed per year.

Jotted out to the East is a small addition added a year later, a studio place that was used as a home for the homeowner's mother. Further East on the property located in the hay fields are 28 new PV panels to help supply the need of electricity. A sheep farm is part of this home and a large vegetable garden supplies most of the homeowner's needs to live for the year. Amazing homesteader who loves all things- conservation, environmental, and renewable.

Green Built features include:

- Wood flooring and some trim purchased and milled locally (Ash, Oak, & Maple).
- Stones used from the site.
- A church pew integrated into the dining nook.
- Used tempered glass from sliders for the loft railings.
- Tile thrown away by local tile company that were no longer being sold.
- An old butcher block.
- A vegetable waste bin located in the kitchen counter top.
- All kitchen cabinets and dining nook built by Vos Energy Concepts.
---

Fernwood - Bitely, MI
The cabin in the woods. This unique home is a special design imagined by the homeowner, designed by a friend, Jeremy Berg a former Dean & teacher of JEI (Jordan Energy Institute) in Michigan. Built by Dan Vos, of Vos Energy Concepts who came highly recommended by Jeremy Berg. History: Dan had attended JEI, Jeremy was his teacher, and in the end, Jeremy designed his own home in Rockford, MI asking Dan to build the home for him.

The cabin is located on 80 acres surrounded by all sides of the Manistee National Forest. Originally, it was thought to run a power line from the grid through the national forest, however, the accessing to the grid was prohibitive. The next conclusion was to go for Photovoltaic panels. The panels supply all the power to the cabin and barn. The power is stored in batteries inside the home in a specially built battery box. When there is no solar source (sun) to keep the batteries charged, the back-up system is a Cummins powered generator. Also the inverter has an automatic generator ignition to charge the batteries if the solar energy is not available and or/ if the total battery bank falls below the designated levels of volts. That way the batteries will be recharged if needed.

The structure design is a combination of a pole barn and cabin. The entire square footage is 4,368 of floor space. This includes 2,160 sq ft of livable space in the cabin, the barn's main floor is 1,620 sq ft and the barn's loft is 588 sq ft of storage space. There are three levels inside the cabin. The loft area, main floor, and lower level. A wood stove is in the lower level for the main heat source with a large fireplace on the main level. How large you wonder? It is just over 16' high and at the base, 11' wide. It is made with cultured stone and an old barn wood beam for the mantle & barn wood for the shelving on each side of the fireplace. All the barn wood came from an old chicken coop torn down by the homeowner and his son. All floors and stairways are red oak and the main room ceiling and all walls are white oak. No stain or sealer was put on the walls or ceilings. They have been coated with two coats of Tung oil. The barn wood was also used to build and frame in all kitchen cupboards. There is a built in butcher block, originally from the Ludington Butchery (MI) and stamped "1874" on the back. The homeowner has been collecting a variety of doors from Michigan municipal buildings that were being razed and used them throughout the cabin. A deck is located off the living area on the main floor and a screened in porch is off the lower level under the deck.

Green Features Include:

- PV panels for electricity.
- All local wood throughout the cabin on walls, floors, and ceilings.
- Recycling barn wood to new uses.
- An old Judge's chamber sliding wood door dividing pantry and kitchen from the old "Fremont Courthouse, Firehouse and Community Building."
- Walk-in Cedar closet.
- A handmade old "Potato Cupboard" found at a garage sale.
- All lighting is CFL and LED.
- Windows were positioned for good airflow when opened in the warmer seasons.
- Ceiling fan with CFL lighting keeps airflow moving for cooling and distributing heat.
- Insulated window shades help with the cooling in the summer and keeping the heat indoors during winter months.
---
Life As It Is in Rockford, MI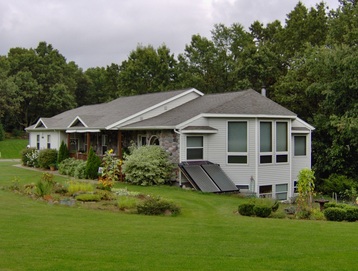 This is an Energy Star, Green, and Healthy custom home. This home is a passive design built by owner/builder/designer-Dan Vos. We designed and built our home before the word "green" was used for home building. The home was designed to fit the building site and in addition to its solar features it is also wheelchair accessible with a ramp built in the garage, barrier free throughout and designed to be chemical free. With health issues to chemical sensitivities and allergies for my family, it was very important to address these needs carefully and to have a healthy house. No one is comfortable in a house which makes him or her sick. We looked very closely at building materials and water sealing techniques.

It is super insulated with a vapor barrier (foil faced sealed insulation panels under the drywall). Installed a Heat Recovery Ventilation system (HRV) for the winter fresh air needs. This is essential to a tight sealed home. Tile and wood floors are used throughout the house and the only carpet that was bought was used to go on the stairs to the walkout basement. Note: This carpet is wool and recycled from a retirement housing apartment that otherwise would have landed in the landfill.

The stone and tiled 2-sided gas fireplace along with the interior stonewalls add mass to collect and store solar heat. Large south facing windows bring in the warmth during the cold season with tile floors that collect the heat from the sun and releases it in the evenings. With the windows, oak/maple flooring make the home bright without having to use much lighting escecially on those dreary cloudy days and nights. This is a passive solar design.

On the outside, we have two solar hot water panels that helps supply our needs for hot water. It decreases our gas bills tremendously during the spring, summer, and fall seasons. Along with that, we have one PV solar panel that operates the pump to circulate the flow of the water in the water panels to the inside of the storage tank.

Our heat is radiant floor heating throughout the entire house, up and walkout basement. Having an open floor plan helps a small house feel bigger and the heat is distributed throughout easier.

Spec on the home:

- Build in 1998.
- Ceilings R-50, Walls R-25, Basement walls R-17, Basement floor R-5.
- Vapor retarders throughout.
- Passive solar takes care of 15 - 20 % of the heating needs.
- 2700 square feet of living space

Energy & Green Features:

- Solid 3' Oak 6 panel doors throughout.
- Hardwood Oak, Maple, & Tile flooring.
- Barrier Free design with cement ramp inside garage.
- Wider hallways 42".
- Recycled material in construction- Recycled bowling floor used for counter top and as a mantel on fireplace. - Left over oak flooring from a construction site that would have landed in the landfill. - A used carpet on stairway.
- Moveable custom-built cabinet under stovetop to be used as island & space available for wheel chair access.
- Materials locally sourced.
- Energy Star appliances.
- 94% Efficient boiler for the radiant floor heat.
- Garden house/storage building built with some recycled materials.
- Garage fully insulated walls and ceilings.
- No oil based paints, stains, - No formaldehydes in home.
- Used plywood, wood cabinetry and solid wood doors & trim througout.
- Home designed for site and graded for water to drain away from home.
- Passive solar and Solar hot water system.
-HRV-Heat Recover Ventilation.
-House designed for cross ventilation for the warmer seasons.

---