In the News & Information

Rockford man builds state's most
energy-efficient house—twice


June 30, 2011

By

Squire News by BETH ALTENA

New state energy codes are forcing builders to more efficient homes, but Rockford's Dan Vos has been using new energy-efficient techniques and more for years. He is the creator of the most energy-efficient home in the state of Michigan—a second feat for him following last year's home he built that scored highest at that time.

"I graduated from college 22 years ago and remembered when we were in the energy crunch of the seventies," Vos said. "You had to buy your gas on odd or even days and OPEC had an oil embargo."

Vos said gas quickly became plentiful again, but it made sense to him that using less energy when possible was a good thing. He has built his professional career with energy use in mind. "I'm also kind of Dutch," he noted, and designed and built his own energy-efficient home 13 years ago.

Vos is ahead of the game as Michigan residents, and the rest of the country, struggle with energy supplies. He has a bachelor of science degree in renewable energy and has taught college courses in solar and climate-specific designs. He is passionate about saving energy, but the concept is now becoming more prominent in his field and many others. On the verge of statewide compliance in the elimination of traditional light bulbs in favor of the compact energy fluorescents, wise energy use is becoming less of a personal choice and more of a fact of life. All new commercial buildings in the City of Grand Rapids are required to be LEED-certified, Vos stated.

The house Vos just built for architect Eric Hughes of Image Designs, is one of a kind—so far. It is certified Leadership in Energy and Environmental Design (LEED) Platinum, the highest rating. When tested, Vos said he thought the home might score a 30 in the Home Energy Rating System (HERS). Low scores are best, with a zero meaning the owner will never spend a dime in energy costs. To his surprise, the new building scored the highest in the state at 12.

Building energy-efficient involves nearly every aspect of a home design and construction, although Vos often helps homeowners increase the energy efficiency of an existing home. With his latest house, he had been asked by Hughes to create the most efficient home possible. Hughes' home was built with a newer type of frame, created by concrete poured through foam forms. Concrete is an excellent building material that not only results in a home that is probably pretty safe in a tornado, but also retains temperature.

Windows, doors, ducts, and all parts of the house that are designed to seal completely, are another temperature-retaining feature. The floors all have radiant heat and the house is built to use passive solar energy—letting the sun shine in for heat—as well as more typical solar panels for heating water.

More often now, builders are asked to create LEED-certified buildings such as the new Goodwill store across from the Rockford Meijer. Vos said the process is exacting and not only requires the finished building meet standards of energy efficiency, but monitors the whole process of building.

"They also keep track of how much you throw away," Vos noted.

A recycler, Vos said he recycles the extra drywall in a building by providing it to a farmer who has special equipment to crush the sheets and fertilizes his farm fields with the powder. His trash at a construction site is minimal—a more common practice these days. "Nobody ever used to do that," he said. "They all used to bring in big dumpsters while a house was going up."

Now is the time to have energy on the mind as the state and federal government are offering incentives and tax breaks for energy-saving products. Although building a house like the one Vos just finished can cost more than a traditional home, homeowners won't have to wait long for their payback.

The home in Saranac that Vos built, like several in Rockford, sells the energy from solar panels to the utility company. When the owner buys energy, he pays 11 cents and when he sells it, he receives 65 cents per kilowatt. It's a sweet deal that was offered for a limited time to encourage people to sign on as energy suppliers.

Vos said people are excited about embracing solar power for generating energy, but believes solar for water heating is being unfairly ignored. Solar panels can be installed on nearly any home and cost about $7,000. A 30 percent tax credit takes about $2,000 off, and eventually the savings will pay for the cost.

The home is a small one, just 1,200 square feet. Vos said that is another industry trend. "The days of building the biggest house you can are over," he said—except for that one going up on Lake Bella Vista. "A lot of people are realizing they just don't really need that much space."

"I'm pretty proud," Vos said of his completed job.

Vos looks forward to his next chance to build green and clean, and also to helping people improve the energy efficiency of existing homes. He said part of his business is going into older homes and testing them for energy wasting problems. It's a career for which he has a true passion, and he considers saving energy important to the world. "There are changes in the climate. Our rain forests are disappearing. No one knows why the climate is changing, but if it is us, we'd better figure it out."

Vos added, "If there are people out there doing this to help the Earth, I'm in favor of that. I'm trying to do my part."

Dan Vos is the owner of Vos Energy Concepts, located right here in Rockford. He can be reached at (616) 874-1133. A link to the blog of one of his energy efficient homeowners can be viewed at www.100kriverescape.blogspot.com.

*************

Another Michigan Net Zero Home


Written by

Jason La Fleur, LEED AP

// January 31, 2011 //

LEED Platinum

,

Michigan

,

Net Zero

,

Single-Family Projects

//

This 3-bedroom home with an attached 2-bedroom mother-in-law cottage provides living, workshop and home-office space for the homeowners and their mothers. It features barrier-free design throughout with zero-step entry, low thresholds, roll-in showers, grab bars, and knee-space under sinks and cooktops.

Go here to see an interactive website of the home with data on energy use compared to energy captured through PV

The super-insulated shell uses double-stud wall construction with 24,000 pounds of recycled cellulose insulation in the walls and attic, and a 6-inch layer of reclaimed foam insulation under the stained concrete floor. Heat from six flat-plate solar collectors is stored in an insulated 2,500-gallon water tank, which warms the floor and also provides most of the heat for domestic hot water.

High-efficiency wood stoves make up the balance of winter heating needs, and a small electric backup heater maintains temperatures when necessary. The home is designed to produce more electricity than it consumes on an annual basis.

The home has no lawn and is surrounded instead by gardens. The steel roof collects 2,000 gallons per inch of rainwater, which is stored in an 11,000 gallon cistern for garden irrigation and flushing toilets. A root cellar built into the hill behind the house provides zero-energy cold storage of fruits and vegetables.

http://www.alliancees.org/wp-content/uploads/2011/01/McClellanProjectProfilePDF.pdf

Here are some information that you may find helpful.

Michigan Info:



Great Lakes Renewable Energy Association (GLREA)




257 South Bridge Street

PO Box 346

Diamondale, MI 48821

(517) 646-6269

http://glrea.org/

Michigan Energy Options

405 Grove St

East Lansing, MI 48823

(517) 337-0422

http://www.michiganenergyoptions.org/


Brett Little. LFA | Executive Director | GreenHome Institute(Formerly - Alliance for Environmental Sustainability)501(c)3 Non-Profit | GreenHomeinstitute.org |O 888-LEED-APH ext 1 | Tx 231-740-9849 | PO Box 68164 Grand Rapids, MI 49516
"Empowering people to make healthier & more sustainable choices in the places we live. "


Michigan Green
Group for Renewable Energy-Efficient Nation
7627 Park Place
Brighton, MI 48116
888-473-5444
http://www.michigangreen.org/


Sustainable Research Group
949 Wealthy St SE - Suite 205
Grand Rapids, MI 49506
(616) 301-1059
http://www.sustainableresearchgroup.com/


Grand Valley State University
Michigan Alternative and Renewable Energy Center
200 Viridian Dr
Muskegon, MI 49440
(231) 722-4371 or (616) 331-6900
http://www.gvsu.edu/marec/


Michigan Energy Office
State of Michigan
http://www.michigan.gov/mdcd/0,1607,7-122-25676---,00.html


MPSC-Michigan Renewable Energy Program
State of Michigan
http://www.michigan.gov/mpsc/0,4639,7-159-16393_55246---,00.html


Habitat for Humanity
425 Pleasant St SW
Grand Rapids, MI 49503
(616) 774-2431
http://www.habitatkent.org/


Sierra Club - Michigan Chapter
http://michigan.sierraclub.org/index.html


Other Sites:

AmmEn Design (Engineering Design Services & Renewables)
Grand Rapids, MI
http://www.ammendesign.com/index.html


Image Designs, LLC
Eric Hughes
6812 Old 28th St SE - Suite D
Grand Rapids, MI 49546
(616) 957-5333
http://imagedesignllc.blogspot.com/
Architect for the "The River Escape" Home


Jim Karczewski
2607 Frederick DR SE
Grand Rapids, MI 49506
(616) 235-3111
Email @ JamesKarch@MAC.com
Architect for "The Grand River" Home


Home Energy Star
http://www.energystar.gov/


Jay & Liz McClellan
The Saranac Home
http://brainright.com/


Klass Kwant & Candace Cowling
The Grand River Home
http://www.kwantfamily.org/grandriver/grandriver.htm

Products:

Backwoods Solar Electric Systems
1589 Rapid Lightning Creek Rd
Sandpoint, ID 83864
(208) 263-4290
http://www.backwoodssolar.com/


Sun Electronics
Miami, FL
http://www.sunelec.com/


LED Lights
http://www.ledlight.com/standard-ultra-bright-7-smt-led-light-12-volt-ac-dc-ncnr.aspx


The Iron Shop
Spiral Staircases
http://www.theironshop.com/


Radiant Heat and Floor Company
http://www.radiantcompany.com/system/closed.shtml


Good Books to read and reference to:

Our number 1 choice
The Not So Big House book set
by: Sarah Susanka

The Solar House -Passive Heating and Cooling
by: Daniel D. Chiras

The Homeowner's Guide to Renewable Energy
by: Dan Chiras

The Natural House
A Complete guide to Healthy, Energy-Efficient, Environmental Homes
by: Daniel D. Chiras

Solar Gardening
by: Leandre Poisson and Gretchen Vogel Poisson

Rodale's UltimateEncyclopedia - Organic Gardening
by: Fern Marshall Bradley - Rodale - 2009

Green Living Online - Canada
http://www.greenlivingonline.com/

Living Green Magazine Online
http://www.livinggreenmag.com/index.html


The Vos Home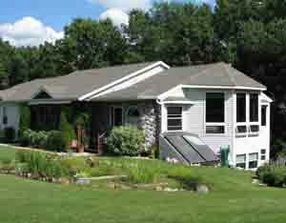 Solar energy the ticket to health
BY: Kathy Berlin - Rockford Indendent - September 17, 2008


A serious illness led to the construction of a "healthy" home for Rockford resident Barb Vos 10 years ago.

She was living in a 90-year-old house in Grand Rapids when she became "very, very sick" in 1990 and ultimately learned she was experiencing a reaction to chemicals such as formaldehyde, a product commonly used in carpet adhesives and other household products. She was also diagnosed with allergies and chronic fatigue syndrome.

"We needed to get out of that house," she said.

Fortunately, her husband, Dan, is a custom home builder specializing in passive solar design and green building. He used elements like solar power and radiant floor heating in the construction of their 2,500-square-foot home.

Both are considerably cleaner than a traditional forced air furnace, which blows dust and other allergens into the air. He also installed a heat recovery ventilation system to bring in fresh air during Michigan's long winters.

"I try to put renewable energy in homes to make them as energy-efficient and as earth-friendly as possible," said Dan Vos. "It has just always made sense to me."

The Vos house, located on Meadowrock Drive near 10 Mile and Ramsdell, sports solar heat panels and large, south-facing windows that allow sunlight to flood in and warm the dark green ceramic tile floor on cool days.

"Even on a cloudy day it's bright inside," said Barb Vos.

Just outside the windows is a solar panel containing tubing filled with a special type of antifreeze warmed by the sun. The tubing runs into the house to an 80-gallon hot water tank wrapped by copper coils so hot water is at the ready. A pump system circulates the water, which comes from a well.

Vos can wash three loads of laundry, run the dishwasher and all three family members can shower - all without running out of hot water.

Throughout the day the tile slowly releases heat, keeping the family comfortably warm. The radiant floor heating helps keep heat evenly distributed throughout the home, both on the main floor and downstairs so there are no chilly pockets of air.

Barb's health has improved considerably, along with 17-year-old Tasha's, who has allergies to dust and mold.

"We saw a big change in Tasha's health when we moved in, along with my health," said Barb Vos. "I'm not cured, but it's a lot more manageable."

Recycled materials also play an important role: the fire place mantel is made of hard pine from a now-defunct bowling alley lane. That same material serves as a big chunk of the kitchen counter, too, and does double duty as a cutting board.

"A lot of our furniture came from estate sales," said Barb Vos. "Tasha is into it as much as we are and buys a lot of stuff from second hand stores."

Nestled in the Vos' wooded back yard, on the other side of an organic garden, sits a cozy garden house. It is a favorite spot for the family and, with its northern exposure, stays refreshingly cool in the summer.

Here, too, recycling plays an important role. Furnishings such as doors, windows and roofing were extra materials left over from job sites. The stone came from projects used in the construction of the Vos' main house.

"We're just trying to be as natural as we can, and educate people about it too," said Barb Vos.


---