Who we are, our Goals, and Techniques that set us apart -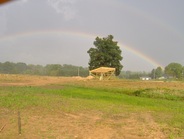 Who we are-


Vos Energy Concepts has existed since 1988. The owner, Dan Vos, has a Bachelors degree in Renewable Energy Engineering Technology. Dan also has taught passive Solar Design and Architecture at the college level and acted as an expert witness in energy related arbitration. Dan also had done Energy Audits in the past with MIcon gas company in the mid 1980's. In 1988 the business was established as Vos Energy Concepts. With all of this knowledge, Dan took it upon himself to show how all these techniques can work together by designing and building custom homes for his clients. Each home is unique and specifically built for the homeowner and their needs. Over the years, being involved with each client's dreams is a great joy to see the home come to their expectations and a pleasure to be part of it. Vos Energy Concepts from the beginning have been building "green" aka healthy homes before the word "green" was used for home building. This is not a new concept to the business, it just seems to be the right thing to do as a builder and as a homeowner.

The work being done is always with a commitment and dedication, taking pride in everything down the to the last chore. Passionate about getting it done right in every single thing whether it is big or small. Vos Energy Concepts finds it important to establish a relationship with the clients, keeping communication constantly open throughout the process, working with the sub-contractors with the values of respect, being considerate, being kind, and supportive. It is important to build a lasting relationship with clients. Customer service is important. From the beginning of design to the final walk-through we want to make sure you are happy, satisfied, and we have met your expectations and beyond. Clients are our priority, their needs, concerns, ideas are heard, understood & completed to their satisfaction. All of this together puts the creativity and talent that goes into making a home.

Hands on. Working on the jobsite from rough in, closing in, and finishing and being there everyday keeps the process moving along, connecting with all the sub-contractors and suppliers helps ease the homeowners that all is being taken care of.

By taking care of the needs of the client makes their new house feel like home when they move in, making the transition much less stressful and gives them the satisfaction of knowing they have a home they can live in comfortably for a long period of time. Creating a beautiful home is art. Combining the craft with art makes this a custom fine home building. That is what we do. An Energy Efficient home is a comfortable home. It is easier and less expensive to heat and cool. We try to incorporate Passive Solar when possible in the design of the homes to use the heat of sun which absorbs in a mass during the day and releases it at night. It is free, shining brightly, feels cozy, clean energy and even when the sun is not shining there is still plenty of light without having to turn on the indoor lights.

Our Goals for us and our clients-

To provide the needs of the client first.
To build quality homes that reflects the clients lifestyles and individuality.
To build energy efficient homes using passive solar techniques when possible and other renewable technologies where applicable.
To maximize usuage of space without overbuilding.
To use every available space in design and building which limits the waste of materials.
To design and build solid homes with custom interiors to suit the clients taste.
To provide outstanding craftsmanship and quality into our homes.
Most importantly keeping an open communication with the clients, Architect, and sub-contractors to keep the process flowing smoothly with respect, understanding, and commitment.

Techniques that set us apart-

Small house - Large feel.
Super insualting techniques, going beyond the code requirements.
Healthy House technology being aware of those clients needs of chemical sensitivities and allergies using no-VOC or low-VOC paints, primers, adhesives, sealants, and finishers.
Barrier free design, thinking of the furture.
Making sure the homes design fits the building site blending in naturally with the surroundings of the property. A good designs responds to the flow of the land and climate.
Using SIP (Structural Insulated Panels) and ICF (Insulated Concrete Forms) combined giving you that solid home.
Uses recycled content wherever possible such as foundation, exterior walls, flooring, trim, siding, cabinetry, fireplace hearth, and garage.
Gladly welcome using resale items from Habitat of Humanity to incorporate in the home.
Materials locally sourced.
Homes designed for cross ventilation for the warmer season.
Design and install Solar Electric (PV) and Solar Hot water systems.
Concrete floors with radiant heat a green and healthy environment.
Design and incorporate organic natural materials inside home, a connection to the surrounding environment.
Invest ourselves living in a healthy environment either in the home or outside.

Vos Energy Concepts- Email @ Vosnrgconcepts@msn.com
---